Nova Scotia Forestry Hall of Fame
Nova Scotia Forestry Hall of Fame
---
The Forestry Hall of Fame was established in 2004 as a means of recognizing and honoring the significant achievements of individuals who have attained prominence and distinction in any field of forestry, and those who have made a major contribution to the development and advancement of forestry in Nova Scotia. Candidates may be chosen on the basis of their contributions in the field of Forestry Education, Research, Protection, Utilization, Harvesting, Policy or Silviculture but is not limited to these fields. Induction ceremonies are held during the Forest Professionals Annual General Meeting.
Below are the names of the individuals who have been voted into the RPFANS Hall of Fame. You will also see some notes regarding the extraordinary work they have each participated in throughout their respective careers.
If you would like to nominate a colleague or individual to be part of the RPFANS Hall of Fame,first check the nomination guidelines and the nomination form, then please send an email to contact@rpfans.ca
Ian Millar
Inducted (2019)
Ian Campbell Purves Millar started his career in Nova Scotia with the Canadian Forest Service (CFS) in 1977 supervising federal programs including forest pest detection, forest nurseries, research and public relations. In 1982, as Chief Implementation Officer, he oversaw the implementation of federal programs designed to enhance private land management and forestry research in Nova Scotia. His diligence in ensuring updated manuals for operations and procedures were essential to providing quality control which was critical to the success of the program. During these years, Ian represented the CFS on numerous provincial committees, boards and associations and provided leadership and expertise pertaining to all matters forest related. Most notable was his involvement with the Nova Forest Alliance Model Forest, and its many committees and working groups. Ian worked tirelessly in promoting the forest professional and gave freely of his time and felt personally rewarded with proclamation of the NS Foresters Association Act in 1999. Subsequently, he was instrumental in the formation of the Registered Professional Foresters Association of Nova Scotia (RPFANS). Since then he has championed Right to Practice legislation for forest professionals. Upon retirement, Ian became the first Executive Director of RPFANS and from 2005-2017 was extremely diligent in keeping the RPFANS both administratively and financially sound. He has been a long-time member of the Canadian Institute of Forestry, holding many board positions and contributing to national initiatives. Ian is also nationally recognized for his considerable involvement with forestry accreditation and has travelled the country reviewing forestry curriculums at all forestry degree granting institutions.
William Lloyd (Slim) Johnson
Inducted (2019)
William Lloyd (Slim) Johnson arrived in Nova Scotia in 1977; accepting a position with the Department of Lands and Forest as director of operations and forest management for private lands. Under his guidance the Department increased its compliment of foresters and technicians who combined with consultants and contractors to deliver a private land program that many provinces sought to emulate. He was the key operational contact between the province and the federal government for the forestry agreements that funded much of the private land forestry. Balancing a multitude of private landowner objectives with government funding programs and objectives required vision, commitment and a shrewd understanding of the relationships and interactions of land ownership. His impeccable professionalism and humanity enhanced how the province understood the form and function of these forests within the larger context of provincial forest management and wood supply. Slim Johnson was an early proponent of professional forester designation and his work, alongside others, lead to the formation of the Registered Professional Forests Association of Nova Scotia. Slim Johnson also received the Canadian Institute of Forestry's Tree of Life award for outstanding contributions to forestry.
John Roblee
Inducted (2017)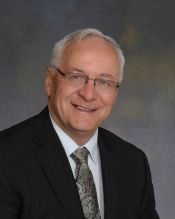 John Roblee has been integral to the organization and promotion of small private woodlot owners in Nova Scotia. As a citizen and landowner, he has worked tirelessly to further the rights and management capacities of owners of forest land. His first foray into private land forest management started during the establishment of community-based Group Ventures - woodlot owner controlled cooperatives. John's tenacious and relentless efforts created the Group Venture Association which developed technical and financial assistance and marketing savvy for more than a dozen groups. John also represented woodland owners o federal and provincial Forest Technical Advisory Committees, championing meaningful criteria and standards for forest improvement work on small woodlots. He served as Vice President of the Canadian Federation of Woodlot Owners and was one of it's first board members. John was instrumental in establishing the Association for Sustainable Forestry and has been a board member with the Nova Forest Alliance (Model Forest), Forest Products Association of NS, and the NS Primary Forest Products Marketing Board.
Russ Waycott, RPF
Inducted (2017)
Russ (Russell) Waycott, RPF, began his career with Nova Scotia Pulp following graduation from the University of New Brunswick. Russ directed the woodlands engineering, operations and forest management efforts and incorporated research and new technologies for mechanical harvesting and silviculture. These efforts improved production, safety and competitiveness while leading the industry forward to include improved considerations for water, soils, habitat, social and cultural values, conservation and long-term forest health. Russ led the woodlands Unit to become the first forest company in Canada to have an ISO 14001 Registered Environmental Management System, the first company in North America to have both CSA and SFI forest certifications and the first company to have the FSC Maritime Standard for sustainable forest management. Russ supported and implemented many initiatives including the Atlantic Master Logger Program, First Nations involvement in decision-making and participation in the company's harvesting and silviculture, and private land silviculture funding with the NS Landowners and Fibre Producers Association. Russ has served on many boards including President of both the NS Forestry Association and Forest Products Association of NS.
Arden Whidden
Inducted (2016)
Arden Whidden, upon completion of a Bachelor of Science in Forestry at the University of New Brunswick, committed his career with the Nova Scotia Department of Natural Resources to improving opportunities for private land forest management and for advancing forestry education. As a provincial representative Arden was a strong proponent for funding initiatives for the small, private woodland owners sector at federal - provincial strategy negotiations. Through his dedicated efforts Nova Scotia became widely recognized as having a progressive private land forest management program. Arden also ensured that certified training programs were available to provide woodland owners with well-trained silviculture workers that continue to this day to positively influence the forestry sector. Arden throughout his career and continuing on during retirement has been a strong proponent of forestry education for both students and private woodland owners. He was a driving force behind the Nova Scotia Forestry Association and its school challenge "Envirothon". Arden advanced forestry issues professionally as national president of the Canadian Institute of Forestry and was awarded the CIF National Tree of Life Award recognizing individuals who have made superior contributions to sustainable forest resource management
Frederick (Fred) Wellings
Inducted (2016)
Frederick (Fred) Wellings, soon after graduation from the University of New Brunswick, quickly became synonymous with forest inventory in Nova Scotia. As Manager and then Director of the Nova Scotia Department of Natural Resources Forest Inventory section Fred oversaw the design and implementation of the province's continuous forest inventory program. Over the years the program was revised and incorporated the newest technology and science for estimating Nova Scotia's forest resource. The early establishment of the Permanent Sample Plot (PSP) system places the province with some of the oldest continuously inventoried forest plots in Canada. The data from these PSPs continues to be used extensively in growth and yield models and wood supply calculations. Later as computer technology and capacity advanced the scope of forest inventories Fred directed the Department into the world of Geographic Information Systems GIS) and digital aerial photography. Fred also guided the Department through Metric conversion and the introduction of the Scaler's Act, Nova Scotia Timber Loan Board and the Nova Scotia Registry of Buyers. With attention to clear, science based goals, a contagious enthusiasm for work, and a wonderful sense of humour Fred would tend to defer any recognition to the loyalty and long service he received from the many technicians, foresters, photo interpreters, cartographers and camp cooks who all contributed to the successful inventory of Nova Scotia's woodlands.